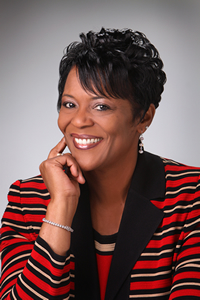 Amanda Goodson is a fun, energetic and influential speaker who captivates and inspires audiences with a contagious energy, compassion, and humor. She teaches by her own example and provides pragmatic ideas and techniques that bring people's aspiration into reach. Engaged audiences who hear her speak; consistently say they left wanting more. She leaves her audiences ready to take the action that can lead to profound changes in their personal and professional lives. Some of her audiences include: National Aeronautics and Space Administration (NASA), Mae Jemison Foundation, YWCA, the United Way, American Institute of Aeronautics and Astronautics (AIAA), executive women's groups, non-profit agencies and many colleges and universities.
As a gifted speaker, strategist, facilitator and coach, Goodson is committed to strategy development, organization development and coaching for individuals, executives and groups. She organizes programs, equips, builds, mentors and coaches future leaders. Goodson frequently serves as keynote speaker for industry, government and organizations across the United States. Also, she is on the board of directors for a three organizations.
As a NASA Senior Executive, Goodson was Director of the Safety and Mission Assurance (S&MA) Office at the Marshall Space Flight Center (MSFC) in Huntsville, Alabama. In this position, she was an integral part of an elite team of agency experts responsible for assuring the safety of the space shuttle propulsion elements, future manned space flight vehicles, and various NASA payloads in support of the nation's space shuttle program. Prior to that appointment, Goodson was named Deputy Director of the SM&A Office.
While in government, she was selected for the Senior Executive Service Candidate Program, named Federal Woman's Program Supervisor of the Year, received the Executional Service Medal, and was awarded a Director's Commendation.
Goodson believes that we all are purposed to do great things in life. Further, she believes that greatness begins with a frame of mind that molds character. "The success we experience depends on the mental image we hold onto in our thoughts. What we focus on continuously, we will experience," says Goodson.